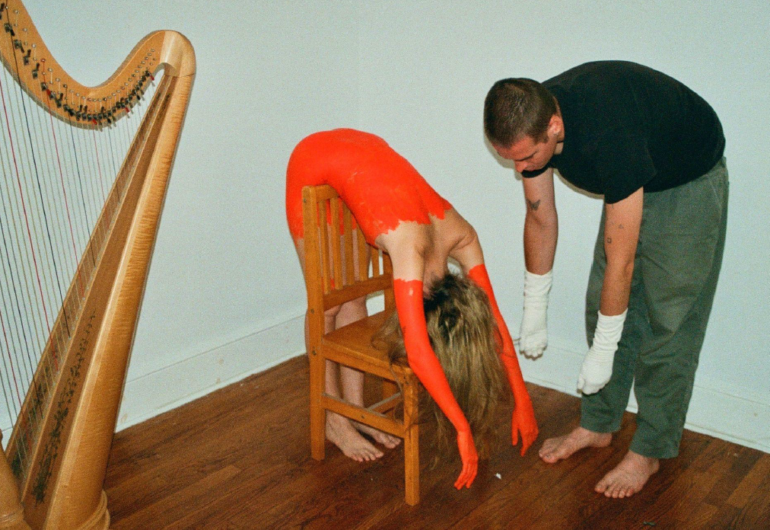 LEYA
Booking Agent : Giorgio Salmoiraghi & Luca Ciscognetti
NYC's LEYA occupies a space between many worlds, creating work that equally encompasses beguiling Medieval song, modern folk, and their own classical-meets-pop language rooted in weird sensuality. The duo is harpist Marilu Donovan, who uses a unique tuning system designed for LEYA, and vocalist/violinist Adam Markiewicz, who blends operatic singing in multiple languages with warm string tones, culminating in a sound that is instantly recognizable, otherworldly, and uneasy. Their catalog spans two albums, a collaborative mixtape, a collaborative EP, a porn, major fashion house commissions, film and dance scoring, a number of visual art installations, and additional singles and features. Prominent collaborators include Eartheater, Brooke Candy, Actress, Liturgy, Okay Kaya, Julie Byrne, and many others.
LEYA has toured extensively, including dates with Eartheater, Machine Girl, Boy Harsher, Liturgy, HTRK, Wolf Eyes, Anna Von Hausswolff, Robert Aiki Aubrey Lowe, and many others. Their festival appearances include Le Guess Who?, Rewire, Oblivion Access, Sensor Yerevan, B-Sides, LOST, Dutch Harp Festival, SXSW, and on the most recent tour they appeared at Maifeld Derby, Hyperreality Wien, Experimenta Festival, Jazz is Dead and Les Siestes Electroniques, amongst others.
Tourdates
No shows booked at the moment.