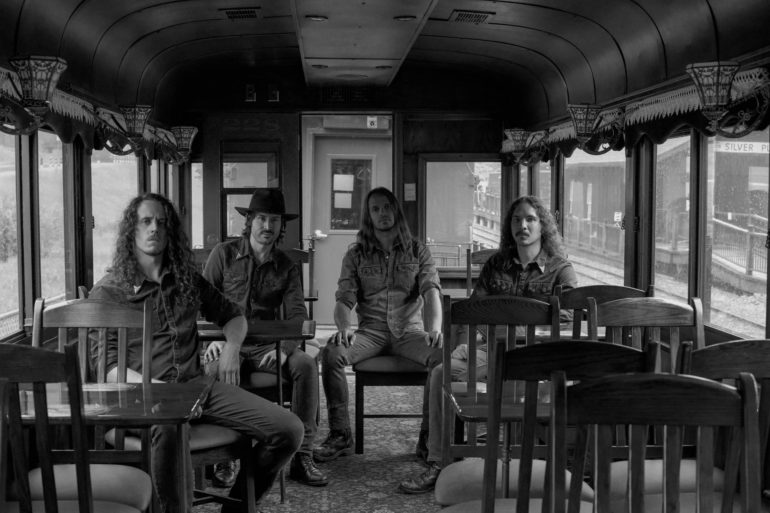 WAYFARER
Booking Agents: Greg Feller & Ricky Biondetti
WAYFARER is black metal of the American West. A cavalcade of fury, melancholia, and dust-laden storytelling; the band is informed by the fierce and adventurous spectrum of heavy music, along with the stark Americana of the "Denver Sound" artists that carved the identity of their home.
In A Romance With Violence, their most fully realized effort to date, WAYFARER presents a searing silver-screen requiem for the myth of the West. This new work sees them at their most intense and triumphant, as well as at their most pensive. Bold, rhythmic and riff laden, the band's pointed expedition across the frontiers of black and extreme metal are tinged with the grit and genuine air of artists like Sixteen Horsepower and Jay Munly, and the majestic heights of the Ennio Morricone/Sergio Leone collaborations.
Through seven harrowing and triumphant anthems of the high plains, the album paints a poignant exploration of heroes and killers, the setting sun of a romantic era, and the shadow it has cast on the world we live in today.Recorded in the midst of the pandemic by Pete deBoer (Blood Incantation, Dreadnought), A Romance With Violence was mixed by the inimitable Colin Marston (Krallice, Gorguts), and Mastered by V. Santura (Triptykon, Dark Fortress). The album was released in October of 2020 via Profound Lore Records and received outstanding acclaim from the likes of Decibel Magazine, Metal Hammer, Revolver Magazine, The Pit, Invisible Oranges, Metal Injection, and so many more. A Romance With Violence also caught the eye of Century Media Records who signed the band for a worldwide deal in 2021.
WAYFARER, from Colorado's "Queen City of the Plains", has origins beginning around 2012. Guitarist/vocalist Shane McCarthy formed the band with drummer Isaac Faulk, bassist/vocalist James Hansen, and original guitarist Tanner Rezabek. They would release 2014's "Children of the Iron Age" and 2016's "Old Souls" via Prosthetic Records, after which they would replace the departed Rezabek with longtime collaborator Joe Strong-Truscelli as full-time guitarist. Partnering with Profound Lore Records in 2017, the band released "World's Blood" in 2018 on the label, ushering in the current chapter and paving the way for this new release.
The last few years have seen the band take their visceral live show across the US, Canada, Mexico and Europe, touring alongside artists such as Inter Arma, Saor, Krallice, Primitive Man, Falls of Rauros, Dark Buddha Rising, Thantifaxath and others. Taking the stage around Roadburn, Fire In The Mountains, and Northwest & Austin Terrorfests, WAYFARER have made a name for themselves as a live act, with the intensity of their performance leaving an impression among its audiences.
Tourdates
No shows booked at the moment.