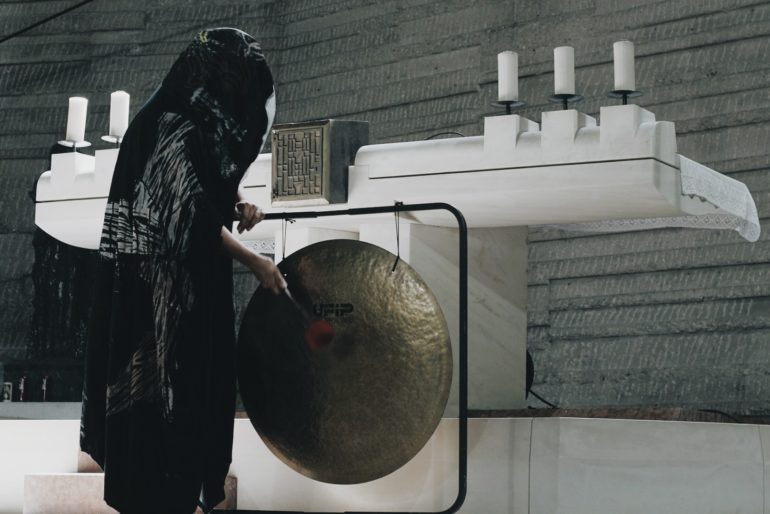 Mai Mai Mai
Booking Agent : Giorgio Salmoiraghi
Mai Mai Mai is an Audio/Video project, an idiosyncratic examination into Mediterranean and Southern Italian folklore, a dark journey into past traditions, made of blurred memories and hazy sounds. It can be considered as a 'Mediterranean Hauntology', one that avoids the pitfalls of nostalgia yet which reanimates the ghosts of a lost past, in the form of an evocative ritual.
Mai Mai Mai has releases out on Boring Machines, Yerevan Tapes, Not Not Fun, God Unknown, Instruments of Discipline, La Tempesta International.
He's part of GNOD's "Chapel Perilous" LP out on Rocket Recordings, playing electronics in this album, and he released several collaborations such as with Lino Capra Vaccina, Luciano Lamanna, Go Dugong, Maria Violenza, made music for Gucci and scores for documentaries and short movies.
The first three LPs released as Mai Mai Mai have so far been named after characters drawn from the Greek alphabet, beginning with Theta (Boring Machines, 2013) and followed by Δέλτα (Delta) (Yerevan Tapes, 2014) and Φ (Phi) (Not Not Fun Records / Boring Machines, 2017) With each of these projects – subsequently anthologized as the 'Mediterranean trilogy' – Roman noise maven Cutrone has unloaded a venomous, punishing and miasmic electronic music, one that reached a climax of vivid, interzonal synthesis and scorched ritual on the trilogy's final instalment Φ.
After those releases Mai Mai Mai continues to explore Mediterranean history yet does so with a different sense of ambition, with "Nel Sud" LP out on La Tempesta International (also home to Xiu Xiu, Ninos Du Brasil, Populous). A journey into the past of the Italian south, realized through original footage taken from Italian ethno-documentaries made during the 1960s and 70s, Nel Sud is intended as an original soundtrack and is mixed with sounds from the original films. With the new single "Il Secondo Coro delle Lavandaie" (The original was made by Roberto De Simone with Compagnia di Nuovo Canto Popolare and released in 1976, an iconic moment in southern Italian and neapolitan music) Mai Mai Mai looks again to the 'South', but this time encompasses an ethnic and folkloric tradition in a more contemporary way, conjuring a work in which art, music & theatre intersect.
Tourdates
No shows booked at the moment.