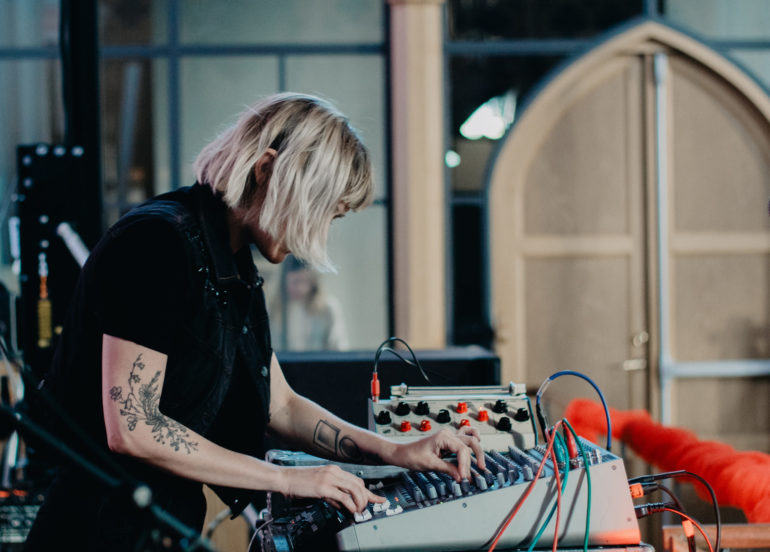 Maria W Horn
Booking Agent : Giorgio Salmoiraghi
Maria W Horn is a composer hailing from the north of Sweden, based in Stockholm since 2011. Maria W Horn is interested in the manipulation of time and space through sonic extremes – oscillating between minimalist structures and piercing power electronics utilizing both digital and analog synthesis as well as acoustic instruments and audiovisual components.
Her work examines aspects of human perception – how audiovisuality and overload/loss of perceptual stimuli can conspire to transcend everyday life and invoke alternate mental states. She is a part of Sthlm Drone Society – an association working to promote slow and gradually evolving timbral music, and co-operates the label XKatedral.
Notable performances and festival apperances include MUTEK Mexico City, Insomnia Festival Tromsø, Stanford Live, CTM Festival Berlin, Madeira Digital, LOST Festival Parma at Labirinto Della Masone (Ulver, Sunn O))) etc.), MUTEK Montreal, Counterpulse San Francisco, Euphonic Festival Barcelona, Göteborg Art Sounds, Open Source Art Festival in Gdansk, Flussi Festival Avellino, Tresor Berlin, DAVE Festival Dresden, Lumen Project Stockholm, Click Festival Helsingør and a permanent residency project at Luleå Biennial, one of the most ancient culture institutions in Sweden.
"Maria W Horn delivered MUTEK's most dynamic performance, oscillating between thrilling noise and sub-bass violence, and more subtle vibrations—funereal organ work along the lines of Kali Malone or Ellen Arkbro—which easily bled into minimalist sine wave experiments."
"The work of Swedish composer Maria W Horn is characterised by deep, sombre excavations of psyches and histories. 2018's Kontrapoetik utilised meticulous research to progress the complex, often troubled history of Horn's home region of Ångermanland in Sweden. Linking the methodologies of composition and satanic ritual, the record was suitably dark and catarctic, its pitch black drones like a discovery from an ancient site. For the follow-up Epistasis, Horn's focus switches from political narratives to an interior evocation that is visceral and desolate, stretching her drone work even furthermore a four track song cycle of icy minimalism."
– The Wire (issue 432)
Tourdates
20/05/21
Graz
Elevate Festival
Austria

w/ Anna Von Hausswolff, Lukas Lauermann