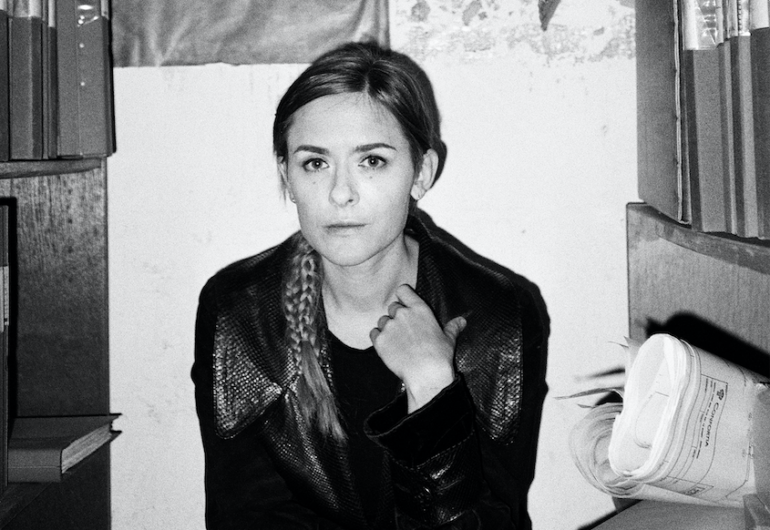 Maria W Horn
Booking Agent : Giorgio Salmoiraghi
Maria W Horn (1989) is a composer whose work explores the inherent spectral properties of sound. Her compositions employ a varied instrumentation ranging from analog synthesizers to choir, string instruments, pipe organ and various chamber music formats. Synthetic sound is often paired with acoustic instruments in order to extend the instruments timbral capacities with precise control of timbre, tuning and texture.
Maria combines spectralist techniques and site specific source material in order to explore the inherent memories of a building, object or geographical area. In her recent compositions she uses acoustic artifacts from physical spaces to create musical frameworks for her compositions. Using these acoustic imprints as a starting point Maria weaves intricate harmonic patterns that slowly transform from intimate fragility to searing high-density aural monoliths.
Her debut album Kontrapoetik (2018) is a historical investigation, and a kind of counter-exorcism tackling the deceivingly serene, yet turmoiled past of her home region Ångermanland in the North of Sweden. Dies Irae (2021) derives from the resonant frequencies of an empty machine hall from the mining region of Bergslagen and Vita Duvans Lament (2020) is a sonic excavation of what used to be the only panoptic cell prison built in Sweden.
In addition to her artistic practice she is also the co-founder of Swedish record label XKatedral.
Notable performances and festival apperances include MUTEK Mexico City and MUTEK Montreal, GRM-INA Paris, Insomnia Festival Tromsø, CTM Festival Berlin, Atonal Berlin, Madeira DiG, Copenhagen's Organ Sound Art Festival, LOST Festival Parma at Labirinto Della Masone (Ulver, Sunn O))) etc.), more editions of Rewire Festival, Kilbi Festival, Counterpulse San Francisco, Elevate Festival, Saint Ghetto Festival in Bern, dunk!Festival, EKKO Festival, Otherworldly with William Basinski, Tresor Berlin, DAVE Festival Dresden, Click Festival Helsingør and a permanent installation project at Luleå Biennial, one of the most ancient and prestigious culture institutions in Sweden, built inside the Vita Duvans panopticon prison.
Maria's new album Panoptikon is going to be released on February 2nd, 2024 and is available for preorder via Xkatedral. An European tour as special guest of the iconic band Swans is now announced and on sale.
Tourdates
07/12/23
Leuven
STUK
Belgium

Commission & presentation of a new 4DSOUND work

09/12/23
Zürich
Walcheturm
Switzerland
Buy Tickets
10/12/23
Geneva
Cave12
Switzerland
Buy Tickets
16/12/23
Paris
Magnétique Nord Festival
France
07/02/24
Groningen
VERA
Netherlands

w Swans

08/02/24
Frankfurt am Main
Zoom
Germany

w Swans

10/02/24
Leuven
Artefact Sounds Festival
Belgium

w Swans

Buy Tickets
11/02/24
Leuven
Artefact Sounds Festival
Belgium

w Swans

Buy Tickets
13/02/24
Lille
L' Aeronef
France

w Swans

Buy Tickets
14/02/24
La Rochelle
La Sirene
France

w Swans

Buy Tickets
16/02/24
Biarritz
Atabal
France

w Swans

Buy Tickets
18/02/24
Madrid
Teatro Barceló
Spain

w Swans

Buy Tickets
19/02/24
A Coruna
Colón Theatre
Spain

w Swans

20/02/24
Braga
Theatro Circo
Portugal

w Swans

Buy Tickets
22/02/24
Barcelona
Sala Razzmatazz 2
Spain

w Swans

Buy Tickets
24/02/24
Geneve
Antigel Festival
Switzerland

w Swans

26/02/24
Trento
Auditorium Santa Chiara
Italy

w Swans

Buy Tickets
27/02/24
Graz
Dom Im Berg
Austria

w Swans

Buy Tickets
29/02/24
Wroclaw
Zaklete Rewiry
Poland

w Swans

Buy Tickets
01/03/24
Gdansk
Stary Manez
Poland

w Swans

Buy Tickets
03/03/24
Malmo
PLAN B
Sweden

w Swans

04/03/24
Göteborg
Trädgår'n
Sweden

w Swans

Buy Tickets
05/03/24
Aalborg
Vor Frelser Church
Denmark

w Swans

Buy Tickets
08/03/24
Maastricht
Muziekgieterij
Netherlands

w Swans

Buy Tickets
09/03/24
Köln
Die Kantine
Germany

w Swans

Buy Tickets
11/03/24
Dresden
Beatpol
Germany

w Swans

Buy Tickets
12/03/24
Berlin
Betonhalle
Germany

Sonic Morgue@Betonhalle w Swans

Buy Tickets
05/04/24
Den Hague
Rewire Festival
Netherlands

Funeral Folk