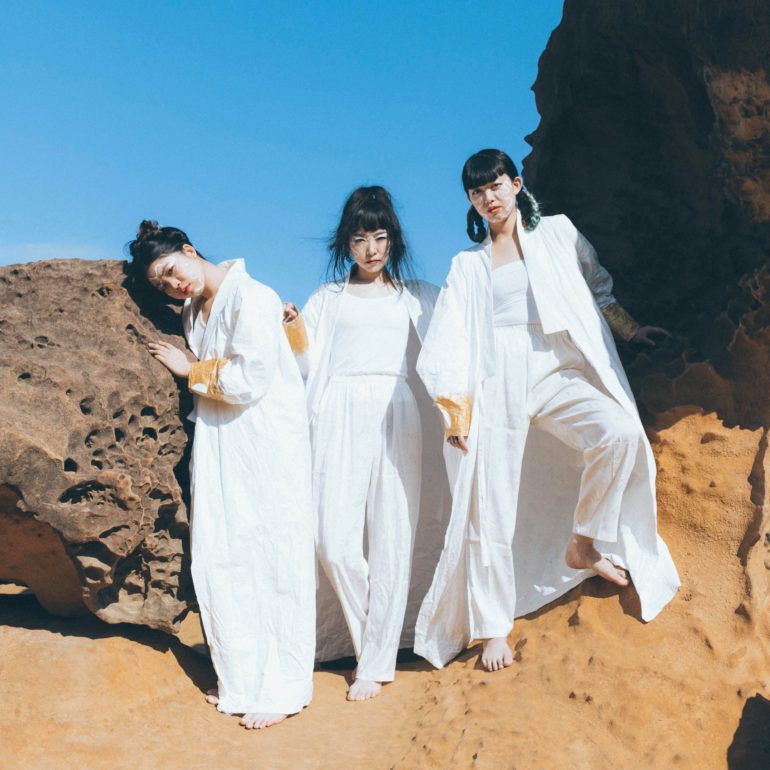 KUUNATIC
Booking Agent : Federico Zanatta
KUUNATIC is a thrilling Tokyo based tribal-psych trio bolstered by diverse global sonics and powerful female vocals. Drawing on the members' different musical and cultural perspectives, their music explores ritual drumming, pulsing bass lines, atmospheric keyboard sounds and Japanese traditional instruments.
Having previously released an EP ("Kuurandia" / 2017) as well as a split 7" (with Taiwanese fuzz psych garage band Crocodelia), "Gate of Klüna" is KUUNATIC's much awaited debut album. Produced by Tim DeWit (Gang Gang Dance) the record reveals a mesmerizing soundworld that transcends genres and hemispheres and succeeds in being both boldly experimental and wildly catchy.
KUUNATIC are Fumie Kikuchi on keys and vocals, Yuko Araki on drums and vocals and Shoko Yoshida on bass and vocals.
The possibilities to project onto Kuunatic's music are endless. This is because the band has created that rare thing, catchy music that is impossible to pigeonhole. The track 'Lava Naksh' is a form of renaissance dance; a pavane, maybe, albeit with Kraftwerk's early organ sound. 'Full Moon Spree' could be a ritual version of The Fall's 'What You Need'. 'Raven's War' is a dry-as-dust progressive soundtrack, it could be a lost cut from the Valley of the Dolls record. The transportative elements in all are key: certain beats and near-melismatic melody lines hark back to archaic processional and ritual music. In 'Desert Empress Part II' for example, a glowering bass line walks ponderously alongside the toms, framing and guiding the mood. Finishing matters off with what sounds like a backwards organ is also discombobulating. Such sonic sleights of hand are part of the Kuunatic playbook. But we must remember an old psychonaught's advice: the menu is not the meal, and the map is not the territory.
Tourdates
No shows booked at the moment.