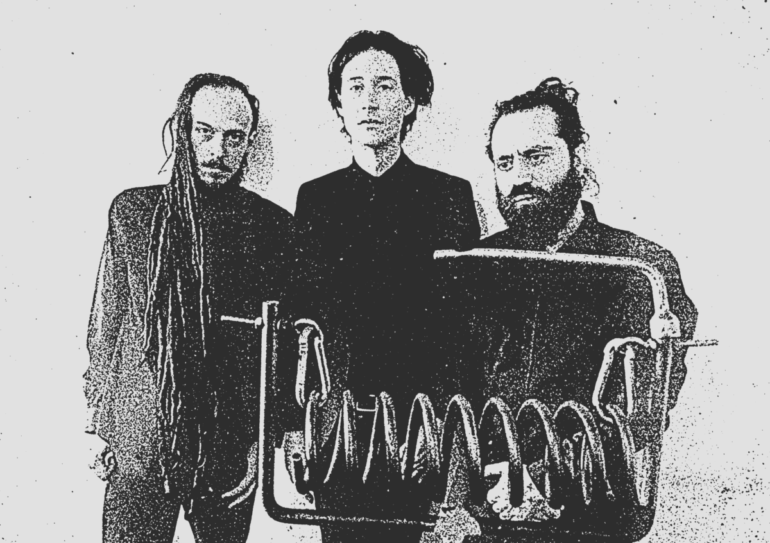 KOLLAPS
Booking Agent : Wade Black
Australian post-industrialists Kollaps are a three piece creating a unique brand of primitive noise "intended for degenerates and outsiders". The bands' distinctive primordial tones are created using appropriated waste materials like scrap metal, raw plastics and steel plates combined with blistering percussion, bass and vocals. This is no empty "industrial" gesture, for the band this process of creation facilitates the literal use of postmodern society against itself.
Mechanical Christ, the bands' sophomore release, is a conceptual continuation of its predecessor Sibling Lovers. This release sees Kollaps further their exploration of the inherent societal sickness of our times, one that manifests itself in the debasement of individual morality. Themes of exploitation, vengeance, drug addiction, paranoia and slave labour are part of a dissonant, inverted morality play. Testament to the bands' evolving conceptual depth are the overarching themes of love, life and death that offer a sense of shared experience in the discomfort of the universal human experience. Known for their violent and nihilistic stage performances, this recording encapsulates with harsher clarity the visceral confrontation that is Kollaps' live act.
Until The Day I Die is Kollaps' third LP for Cold Spring Records, set for release in June 2022. It's a merciless and visceral assault on the senses and continues the trajectory of the band's idiosyncratic approach in their creation of sound. UntilThe Day I Die is an uncompromising force of harsh post-industrial music narrated byoverarching themes of condemnation and redemption; violence, romanticism, sexuality, and addiction. Much of the creation and lyrical conceptualisation of the record has been stylised and presented by the use of William S. Burroughs' cut-up method. A wide variety of metals and raw materials were used in the creation of the album including metal grates, a rusted hoist, cement cylinders, field recordings, hammering of various decrepit objects, broken amplifiers, an exposed reverb tank, various synthesizers, and the infamous metal coil; a crudely self-constructed artifice that has become iconic in its use across Kollaps' triptych of releases and lengthy touring history in Europe, Australia and New Zealand. Until The Day I Die has had a tectonic shift in production methods compared to its predecessors and was entirely written, recorded and mixed internally in a self-constructed studio above a sculpture museum in Lugano, Switzerland.

facebook
bandcamp
instagram
tourdates

Tourdates
23/06/22
Budapest
Instant
Hungary
24/06/22
Wien
FLUC
Austria
25/06/22
Prague
Underdogs
Czech Republic
26/06/22
Zwickau
Club Seilerstrasse
Germany
30/06/22
Roskilde
Roskilde Festival
Denmark
Buy Tickets