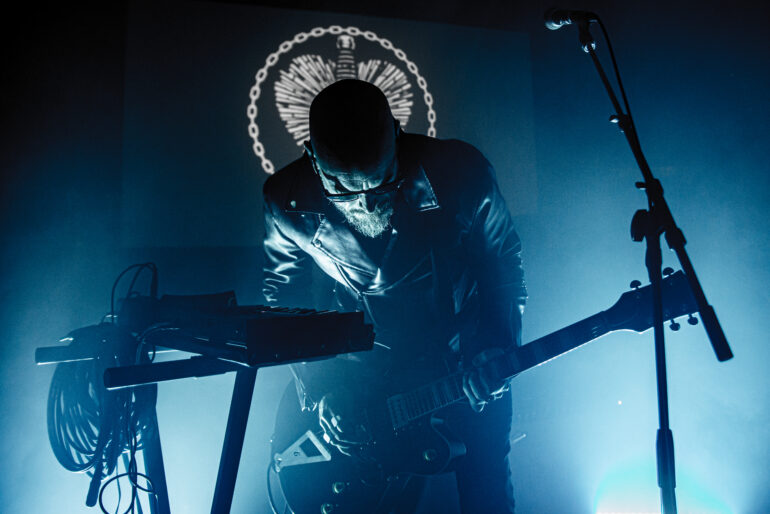 FOTOCRIME
Booking Agent : Ricky Biondetti & Alex Schmidt
While Ryan Patterson, the singer, songwriter, multi-instrumentalist, and producer behind Fotocrime, often sings in a rich baritone, he stands in stark contrast to the laconic troubadour persona typically associated with his hometown of Louisville, Kentucky. Patterson has spent over two-and-a-half decades adding to the town's legacy with his impassioned and activist-minded approach to music, his distinctive work as a graphic artist, and his contributions to nearly every aspect of creative underground culture. After his time fronting forward-thinking art-inflected punk band Coliseum, Patterson looked to the urban centers of London, New York, and Berlin for new sonic inspiration, drawing from the passion of his roots while tapping into the sounds of classic EBM and post-punk artists for Fotocrime.
Patterson is joined in Fotocrime by two fellow Louisville underground legends, both longtime friends and collaborators; guitarist Nick Thieneman (Young Widows, Fool's Ghost) and bass player Will Allard (Aon Brasi, Xerxes). At their live shows, the trio lines the front of the stage for a guitar and synth-fueled attack, backed by the trusty pummeling of their drum machine. When in Patterson's House of Foto recording studio, all three band members readily share instrumental duties on new recordings. Allard is also a well-versed pianist and drummer and Thieneman is well known for his prowess on the bass guitar.
With Fotocrime's organic-meets-electronic cinematic sweep Patterson charts the topography of concrete-lined city streets, his voice permeating every opening like a heavy morning fog. The songs are intimate and poignant yet immediate and visceral, reminding us of the communal experience of getting lost in a sea of people while the sound of a bass drum beats on our chests.
official
instagram
bandcamp
facebook

Tourdates
01/12/23
Paris
Supersonic
France
Buy Tickets
02/12/23
Cologne
Unholy Passion Fest
Germany
Buy Tickets
03/12/23
Hamburg
Hafenklang
Germany
04/12/23
Mainz
Kulturkafe
Germany
05/12/23
Prague
Bike Jesus
Czech Republic
06/12/23
Dresden
Blechschloss
Germany
07/12/23
Brno
Kabinet Múz
Czech Republic
Buy Tickets
08/12/23
Wien
Kramladen
Austria
Buy Tickets