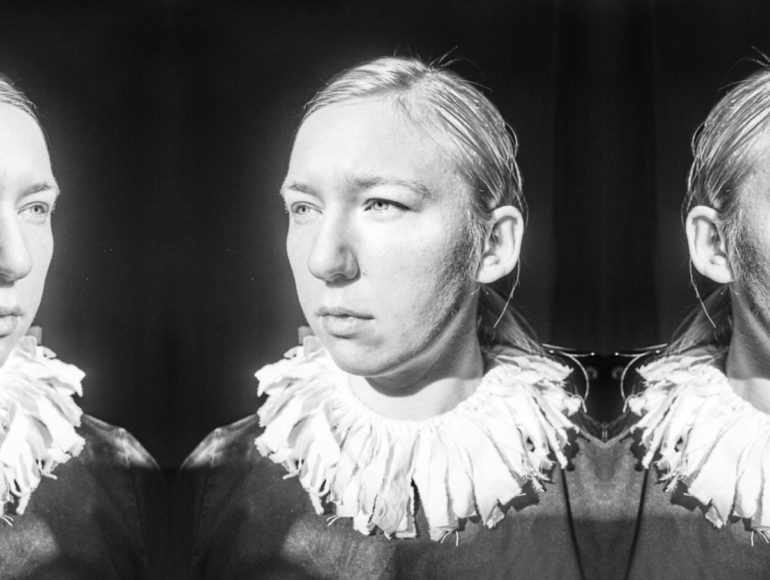 Fågelle
Booking Agent : Giorgio Salmoiraghi
Emerging out of the nordic experimental music scene, Fågelle is a wild collision of lyrical beauty and unhinged, raw expression, where soundscapes, heaving with intricate detail, meet intimate and powerful vocals. Her voice tears through sound and silence, becoming a point of gravity where existential dread and the female experience is examined as both gift and curse.
As a solo artist, Fågelle has developed a unique style mixing guitar, vocals and electronics in organic and expressive ways. The guitar becomes a sounding body to be explored with tools and force, with luscious melodies performed alongside field recordings of urban motion.
Together with producer and collaborator Henryk Lipp (Blue for Two, Anna von Hausswolff, Union Carbide), Fågelle recorded and produced her critically acclaimed debut album Helvetesdagar (2019) which Swedish Gaffa called "a straight through uncompromising, filterless, honest, courageous and masterful album" and Gigwise described as "spiralling out of sight of sorrow and sunlight and sensation – weightless".
Fågelle has toured Europe, playing venues and festivals such as Heroines of Sound (Berlin), Approximation Festival (Düsseldorf), Woman SRSLY (London), Klangfestival (Linz), 4fakultät (Hamburg), Dampfzentrale (Bern), Les Siestes Electroniques (Toulouse), Different Sounds (Lublin) and at the Czech Museum of Music (Prague).
"Tamed by such acoustic honesty, the audience remains frozen, as if hypnotized, for the entire duration of this immaculate performance"
The Message
"A melodic voice erupts from the depths of her chest, one that is filled with such strength and sentiment that it's nearly impossible not to be moved by it."
Wolfgang Magazin

facebook
official
spotify
tourdates

Tourdates
28/10/23
Halmstad
IB Expo
Sweden

Performing as "Klara Andersson"

15/11/23
Kufstein
Klangfarben
Austria
17/11/23
Bern
Full Of Lava Festival
Switzerland