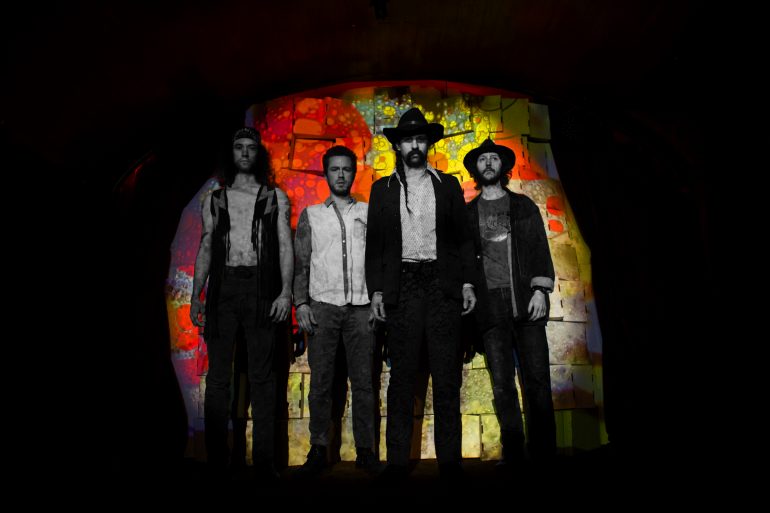 Ecstatic Vision
Booking Agent : Ricky Biondetti & Greg Feller
Tripping through the astral seas, Ecstatic Vision is a Philadelphia heavy psych trio.
Frantically whirling into their vast hallucinogenic haze, press heavily praised the band's guitar-driven and zoned-out debut album, Sonic Praise (out on Relapse), and it took us only one toke to get completely hooked – Sonic Praise easily ranks among the best heavy psych releases of 2016, if not the very best!
Shifting through Space Rock, Kraut Rock, Doom and Free Jazz, Ecstatic Vision is not only looking for cosmic consciousness in the European and American rock idoms, the band is also enthusiastically nodding towards the Middle East and West Africa — it's Ecstatic Vision's blend of noisy, and heavy psych execration combined with Afrobeat and Arabian electronics that will get you so high.
The Philadelphia trio Ecstatic Vision have toured with metal acts like YOB and Enslaved, and they're signed to the metal-associated label Relapse Records, and they look like a metal band. But Ecstatic Vision's forthcoming five-song debut, Sonic Praise, only occasionally intersects with metal, and when it does, it resembles bands like Hawkwind or Monster Magnet or Earthless.
These are tripped-out, sun-baked, cloud-high psychedelic jams drawing from free jazz, Krautrock, and Afrobeat, resulting in music that lives up to the lofty promises made in both the band's name and their album's title. To the extent this stuff might be conflated, confused, or associated with metal, it comprises one of the best metal albums of 2015.
More aptly, though, it recalls the old Spacemen 3 album title (and mission statement), Taking Drugs To Make Music To Take Drugs To. (To be fair, I have no idea if any of the guys in Ecstatic Vision have ever so much as considered a single toke; their music, though, suggests they have vast experience with all number of hallucinogens).
Tourdates
No shows booked at the moment.