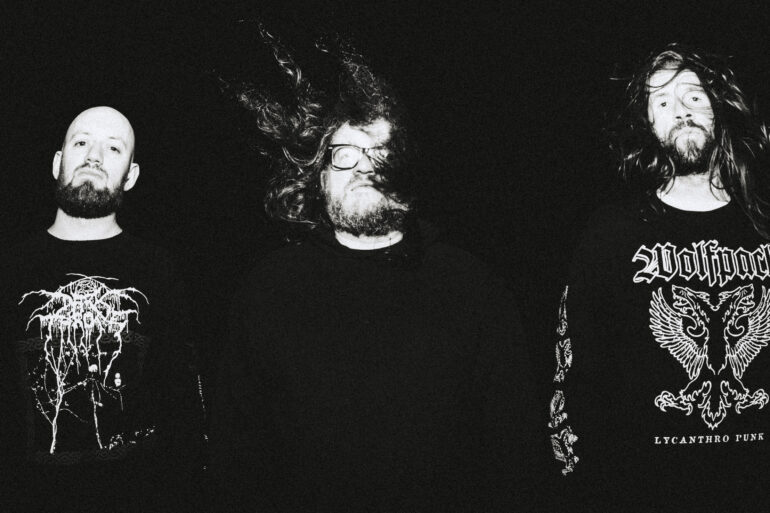 Conan
Booking Agent : Marie-Liesse Leclère
Few bands have a reputation so well earned. Conan are, simply, among the heaviest bands on the planet. That has been their goal since their start in 2006, and from their first demos to their latest full-length, their ethic and will to crush has made them one of doom metal's most revered and celebrated acts. They're the kind of band who, when you see someone wearing their shirt, it means something.
Conan released their most recent album, Evidence of Immortality, through Napalm Records in 2022, and brought new atmospheric ideas to coincide with their well-established penchant for destruction. Their fifth LP in 11 years' time, it underscored both the crushing aspects of their sound and their will to move forward without giving up the tonal extremity and aggression so central to their purpose.
Comprised of founding guitarist/vocalist Jon Davis, bassist/vocalist/producer Chris Fielding and drummer Johnny King, Conan have wrought havoc all over the world and appeared at festivals like Roadburn, Hellfest, Psycho Las Vegas, Maryland Deathfest, Maryland Doom Fest, Summer Breeze, Freak Valley, Desertfest and many more. North America, Australia, Europe; from Japan to New Zealand to Tempe, Arizona, they continue to bring more and more of the planet to heel.
Tourdates
Tour: Conan and Lord Dying
11/10/23
Brno-Královo Pole
Fleda
Czech Republic

Time:

8:00am.

Admission:

450 cz.

Age restrictions:

All Ages.

Address:

Štefánikova 95.

Venue phone:

(+420) 533 433 559.

W/ Lord Dying

12/10/23
Linz
Kapu
Austria

Time:

8:00am.

Admission:

21/25 €.

Age restrictions:

All Ages.

W/Lord Dying

Buy Tickets More information
13/10/23
Dudingen
Bad Bonn
Switzerland

Time:

8:00am.

Admission:

29 CHF.

Age restrictions:

All Ages.

W/Lord Dying

Buy Tickets
14/10/23
Martigny
Caves Du Manoir
Switzerland

Time:

8:00am.

Age restrictions:

All Ages.

W/Lord Dying

Buy Tickets More information
15/10/23
Bologna
Freakout Club
Italy

Time:

8:00am.

Admission:

20 €.

Age restrictions:

All Ages.

W/ Lord Dying

More information
16/10/23
Ljubljana
Orto
Slovenia

Time:

8:00am.

Admission:

20 /24 €.

Age restrictions:

All Ages.

Address:

Grablovičeva ulica 1.

Venue phone:

+386 1 232 16 74. Buy Tickets
17/10/23
Budapest
Dürer Kert
Hungary

Time:

8:00am.

Admission:

10/16.

Age restrictions:

All Ages.

W/ Lord Dying

Buy Tickets
18/10/23
Wien
Arena
Austria

Time:

8:00am.

Admission:

€ 26,50.

Age restrictions:

All Ages.

W/ Lord Dying

Buy Tickets More information
19/10/23
Poznan
Pod Minoga
Poland

Time:

8:00am.

Admission:

99PLN 110PLN.

Age restrictions:

All Ages.

W/ Lord Dying

Buy Tickets
20/10/23
Dresden
Chemiefabrik
Germany

Time:

8:00am.

Admission:

23 €.

Age restrictions:

All Ages.

W/ Lord Dying

Buy Tickets
22/10/23
Oslo
Revolver
Norway

Time:

8:00am.

Admission:

300 NOK.

Age restrictions:

All Ages.

W/ Lord Dying

Buy Tickets
23/10/23
Gothenborg
The Abyss
Sweden

Time:

8:00am.

Admission:

300 Sek.

Age restrictions:

All Ages.

W/ Lord Dying

More information
25/10/23
Hamburg
Bahnhof Pauli
Germany

Time:

8:00am.

Admission:

24,90€.

Age restrictions:

All Ages.

Address:

Spielbudenpl. 21-22,.

Venue phone:

+49 40 30225710.

W/ Lord Dying

Buy Tickets
26/10/23
Berlin
Reset
Germany

Time:

8:00am.

Admission:

25€.

Age restrictions:

All Ages.

Address:

Bundesallee 137,.

Venue phone:

+49 30 7918607.

W/ Lord Dying

Buy Tickets
27/10/23
Hannover
Cafe Glocksee
Germany

Time:

8:00am.

Admission:

25 €.

Age restrictions:

All Ages.

W/ Lord Dying

Buy Tickets
28/10/23
Maastricht
Samhain Festival
Netherlands

Time:

8:00am.

Age restrictions:

All Ages.

W/ Lord Dying

Buy Tickets More information
29/10/23
Ghent
Chinastraat
Belgium

Time:

8:00am.

Admission:

25 / 30 €.

Age restrictions:

All Ages.

W/ Lord Dying

Buy Tickets More information
30/10/23
Leipzig
UT Connewitz
Germany

Time:

8:00am.

Admission:

27,25 €.

Age restrictions:

All Ages.

W/ Lord Dying

Buy Tickets
31/10/23
Wiesbaden
Schlachthof
Germany

Time:

8:00am.

Admission:

25 / 30 €.

Age restrictions:

All Ages.

W/ Lord Dying

Buy Tickets
01/11/23
Dijon
Les Tanneries
France

Time:

8:00am.

Age restrictions:

All Ages.

Address:

37 Rue des Ateliers,.

W/ Lord Dying

02/11/23
Barcelona
Salamandra
Spain

Time:

8:00am.

Admission:

20 €.

Age restrictions:

All Ages.

W/ Lord Dying

Buy Tickets
03/11/23
Vitoria-Gasteiz
Jimmy Jazz
Spain

Time:

8:00am.

Admission:

20 €.

Age restrictions:

All Ages.

Address:

Coronacion de la Virgen Blanca Kalea 4.

Venue phone:

+34 945 23 49 60.

W/ Lord Dying

Buy Tickets
04/11/23
Toulouse
Connexion Live
France

Time:

8:00am.

Admission:

15/20/25 €.

Age restrictions:

All Ages.

W/ Lord Dying

Buy Tickets
05/11/23
Colmar
Grillen
France

Time:

8:00am.

Age restrictions:

All Ages.

w/ Lord Dying

Buy Tickets
06/11/23
Münich
Feierwerk
Germany

Time:

8:00am.

Admission:

25 / 30 €.

Age restrictions:

All Ages.

w/Lord Dying

Buy Tickets More information