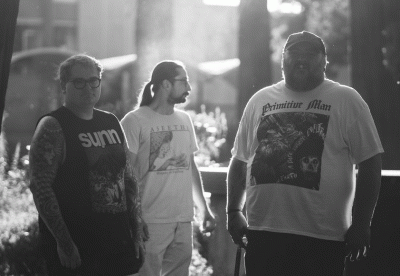 BODY VOID
Booking Agent : Marie Leclère & Ricky Biondetti
Body Void originally formed in the spring of 2014 as Devoid with the aim to combine the most extreme elements of hardcore punk and doom metal. Since changing their name in 2016 with the release of their full-length debut, Ruins, they've continued to evolve and progress. In 2021 they signed to Prosthetic Records and released their third LP, Bury Me Beneath This Rotting Earth, incorporating power electronics and drone into their sound.
In 2023, they returned with their most caustic and unhinged work to date. On their fourth full-length Atrocity Machine, the trio turned further toward noise and industrial. Inspired by acts such as Wolf Eyes, Pharmakon, and Killing Joke they contorted their pulverizing style of doom to fully embody the nightmarish reality of a country seemingly built only to exploit and punish.
The band has remained more active than ever in recent years. They've maintained a consistent tour schedule since 2021, hitting the road with the likes of Primitive Man, Uniform, Portrayal of Guilt, Elizabeth Color Wheel, and OvO, and appeared at such festivals as Roadburn, Oblivion Access, and Levitation.
Tourdates
No shows booked at the moment.