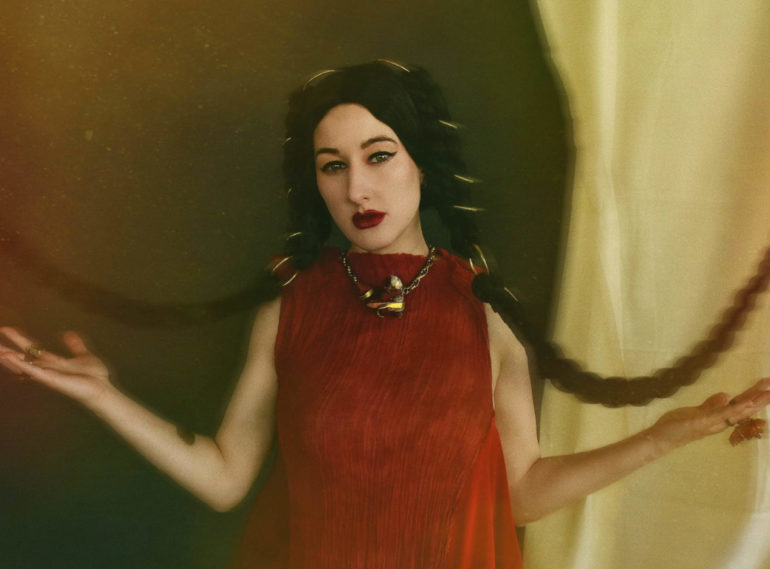 ZOLA JESUS
Booking Agent : Giorgio Salmoiraghi & Ricky Biondetti
There is a way a voice can cut through the fascia of reality, cleaving through habit into the raw nerve of experience. Nika Roza Danilova, the singer, songwriter, and producer who since 2009 has released music as Zola Jesus and just recently experimental electronics under the monicker NIKA, wields a voice that does that. When you hear it, it is like you are being summoned to a place that's already wrapped inside you but obscured from conscious experience.
As a classically trained opera singer with a penchant for noisy, avant-garde sounds, she launched her career with a series of lo-fi releases that pitted her soaring vocals against harsh industrial clatter and hittery synths. The signature Zola Jesus sound became more hi-fi as she began to explore her own skewed vision of pop music on releases like Stridulum, Valusia, and Conatus. With the release of Conatus, Danilova was propelled to regular appearances on festival stages around the world, as well as a special performance at the Solomon R. Guggenheim Museum in New York.
That era culminated in the release of Versions, a collection of string quartet interpretations of her most beloved work, conducted by J.G. Thirlwell (Foetus). That album and subsequent tour were followed by her most hi-fi outing to date, Taiga. Coinciding with her return both to the Wisconsin Woods in which she was raised and her longtime label, Sacred Bones Records, Zola Jesus produced Okovi, her darkest album yet which she followed with Okovi: Additions which included a remix of "Ash to Bone" by Johnny Jewel which prompted his additional remix of "Wiseblood". In 2020, Danilova's stand out set from Roadburn 2018 was released as a live record and she also released her rendition of the Armenian folk song "Krunk."
2022 brought her latest full length Arkhon, an album whose power derives from abandon. Both its turmoils and its pleasures take root in the body, letting individual consciousness dissolve into the thick of the beat. Despite the darkness curled inside reality, there is power, too, in surrendering to what can't be pinned down, to the wild unfurling of the world in all its unforeseeable motion. That letting go is the crux of Arkhon, which marks a new way of moving and making for Zola Jesus.
In the wake of the acclaimed Arkhon, Zola Jesus released Alive in Cappadocia – a stunning live performance video celebrating the dominance and dynamism of her powerful voice.
facebook
instagram
twitter
spotify

>
Tourdates
No shows booked at the moment.