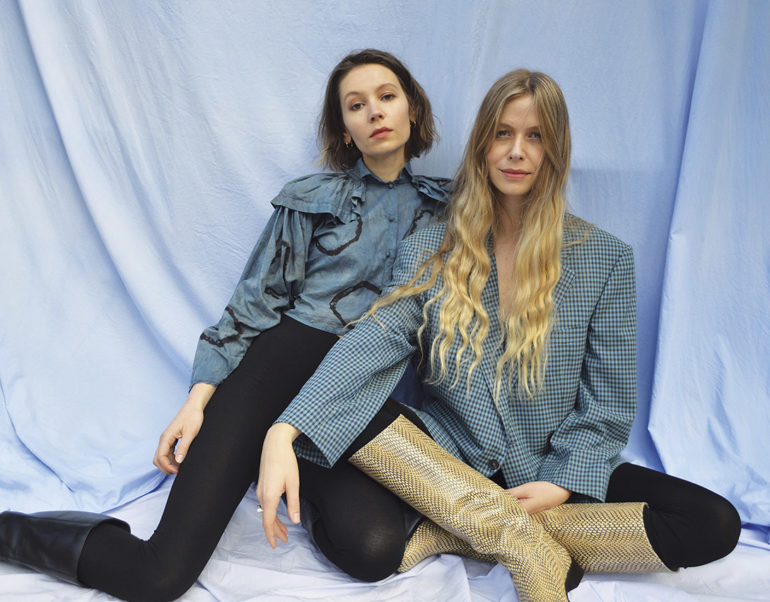 Purple Pilgrims
Booking Agent : Giorgio Salmoiraghi
Psychic sisterhood and wistful wanderlust are the twin energies feeding lush ceremonial dream-pop duo Clementine Valentine (Purple Pilgrims) – AKA multi-instrumentalist, home producers Valentine and Clementine Nixon. Raised itinerantly in Hong Kong and on New Zealand's South Island, with deep backgrounds in folk music (their great-grandfather Davie Stewart was recorded by Alan Lomax), the sisters adapted by devising their own telepathic inner worlds. After the Christchurch earthquake of 2011 leveled their home they migrated to the North Island, crashing with friends and sleeping in cars, eventually returning to China, where they began performing crouched sets of gauzy, angelic noise.
Subsequent tours of Europe and America alongside Yek Koo, Gary War and Ariel Pink helped hone their sprawling, choral haze into leaner, more mantric forms. To record their first full-length LP Eternal Delight, the Pilgrims sequestered themselves in Tapu, on the western side of the Coromandel Peninsula of NZ, in a shed surrounded by native palms and birds. The isolation, stars, and river nightswimming evidently soaked into the music – all 10 tracks radiate spectral feeling and wide-eyed sensuality. In 2018 Purple Pilgrims collaborated with legendary Antipodean guitarist Roy Montgomery (The Pin Group) on his album Suffuse, alongside some of the era's most compelling women singers (Grouper, Circuit des Yeux, Julianna Barwick), the sisters lending their voices and lyricism to his enveloping sound.
The making of their album Perfumed Earth, saw Purple Pilgrims return to the birthplace of their debut record, where the isolationist sisters assembled a community of collaborators (both in person and remotely) to weave together the 9 track record from their forest sanctuary. Out of this pastoral solitude was born an album a world unto itself. With appearances by Gary War, lauded Lorde keyboardist Jimmy Mac, as well as six-string expressionist Roy Montgomery, Perfumed Earth is an inspired fusing of creative touchstones to achieve a singular, stunning vision. Purple Pilgrims toured northern Europe and UK extensively in January and February 2020 and supported Aldous Harding, Weyes Blood and John Maus in recent times.
A new album will be announced later in 2021.

instagram
official
spotify
zone 6 mgmt
tourdates

Tourdates

No shows booked at the moment.