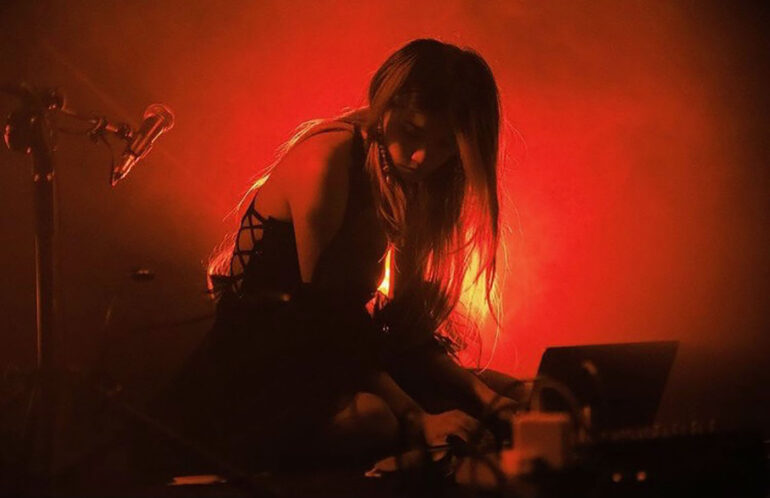 FLORA YIN WONG
Booking Agent : Giorgio Salmoiraghi & Luca Ciscognetti
Flora Yin Wong is an experimental artist and writer from London whose work incorporates field recordings and early instruments such as singing bowls, yangqin and kemence, processed through pedals, Max/MSP, as well as text-based storytelling and abstraction. She cites early musical influences from the city's diverse sub-cultures from UK garage to underground DIY bands, having grown up on council estates in Camden, to underage clubbing in Soho and Mayfair.
In October 2020, her debut album "Holy Palm" was released on Modern Love records as a double LP vinyl. Prior to that, she released on Berlin label PAN on the ambient 'mono no aware' compilation which she worked on conceptualising. Her debut EP 'City God' was a tape on New York imprint PTP, was inspired by the Daoist tradition of tutelary deities and the afterlife.
She has performed at institutions and galleries like MACRO Roma, Volksbühne Theatre Berlin, Palais de Tokyo, V&A Museum, Fondation Beyeler Basel, Somerset House, Triennale Milano, King's Place, The Jazz Cafe, and Cafe OTO London, as well as clubs like Berghain, Printworks London, Razzmatazz Barcelona, SOTO and Metro in Kyoto, WWWB Tokyo, Kyiv, Antwerp, Bratislava, Frankfurt, Rotterdam, Vienna, Switzerland, Brussels, Shanghai, Seoul, Hong Kong, Sydney, and Atonal and 3HD Festivals in Berlin, Semibreve Portugal, FIBER Festival Amsterdam, and Wiener Festwochen in Vienna, MUTEK Peru, Buenos Aires and Montreal, New York's ISSUE Project.
She regularly guests on radio shows like Rinse FM, NTS, Know Wave, The Lot Radio, and Boiler Room, with a trimestrial residency on LYL Radio. This year she launched her record label Doyenne feat. artists inc. Susu Laroche, Lisa Lerkenfeldt, Martyna Basta, and YL Hooi. Her second album is due this September on Modern Love, and her multi-channel composition for Paris institute's INA GRM will be released as a split EP next year following a residency for their iconic 48-channel diffusion system. She is currently working on remixes for Ale Hop on Nyege Nyege Tapes, for duo Animistic Beliefs and Tokyo producer Ena.
Her first book 'Liturgy' was released in July 2021 on New York's Primary Information – exploring abstract fiction and non-fiction, interlinking themes like religion, modern mythology, paradoxes, and delusions. This year she launched the record label Doyenne based around the concept of the 'divine feminine'.

soundcloud
instagram
twitter
bandcamp
lyl radio residency
live filmed by ursss

Tourdates
07/10/23
Köln
St. Gertrud Kirche
Germany
15/10/23
Dresden
DAVE Festival
Germany
21/10/23
Bristol
Strange Brew
United Kingdom
16/11/23
London
Ormside
United Kingdom
18/11/23
Bern
Full Of Lava Festival
Switzerland
25/11/23
Berlin
Roter Salon
Germany
01/12/23
Rome
Hacienda
Italy
19/01/24
Linz
Zur Schiassn
Austria