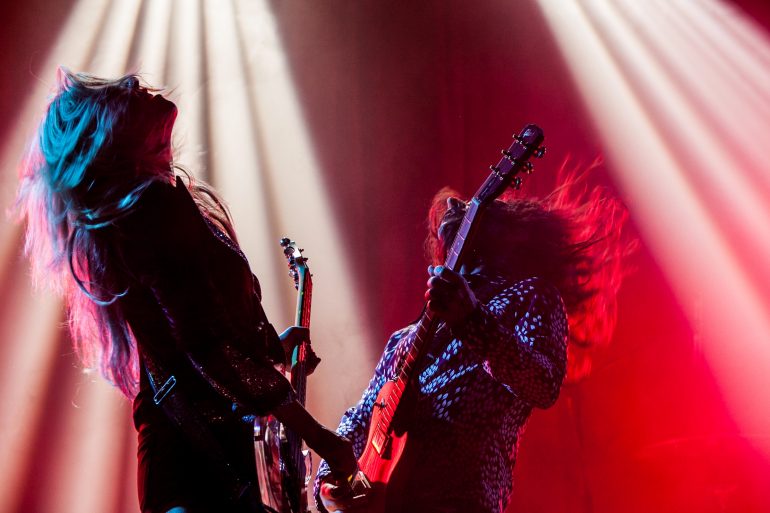 WHITE HILLS
Booking Agent :Giorgio Salmoiraghi
New York's WHITE HILLS are the opposite of a comet. They suck up an explosion of energy on the surface of the earth; from spirituality, from adrenaline, from the history of synthesized electronic music, from substance use, from philosophy, from friends and enemies alike, from MOTHER FUCKING ELECTRICITY and they focus it into a blinding beam of energy which they reflect back out into the void and this beam is a message. It is a statement which reads: "FUCK YOU. WE ARE HERE. WE ROCK, THEREFORE WE ARE." -John Doran, The Quietus.
New York's critically acclaimed WHITE HILLS has garnered a reputation as one of the most prolific bands of their generation, composing over 11 studio albums along with numerous EPS, singles and collaborations. Their music weaves elements of post-punk, electronic, metal, drone and psychedelia in the spirit of Killing Joke, Cabaret Voltaire and Hawkwind, with a pronounced New York City edge reminiscent of Sonic Youth, The Swans and The Velvet Underground. The music made by core members Dave W. and Ego Sensation is risky and cutting edge, rooted in punk ethos and Stooges-style abandon. WHITE HILLS has toured extensively throughout Europe and North America and appear in Jim Jarmusch's film Only Lovers Left Alive.
Tourdates
No shows booked at the moment.