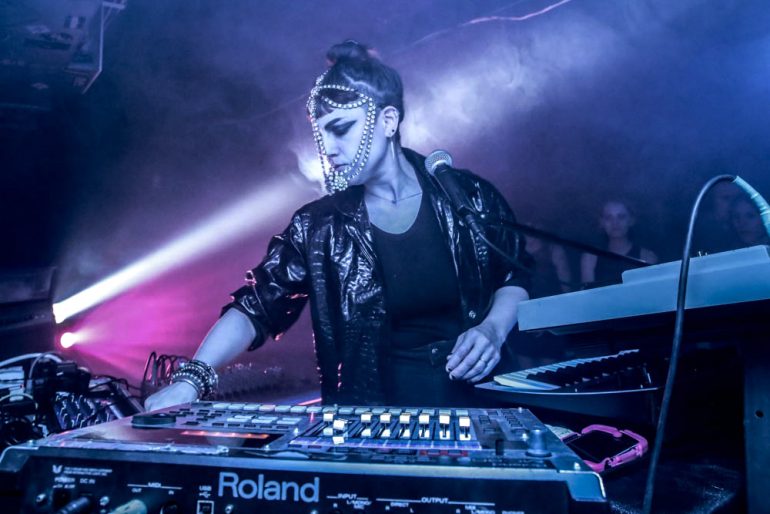 VOID VISION
Booking Agent : Ricky Biondetti
Void Vision is the electronic solo project of Philadelphia-based musician, Shari Vari, formed around 2009 when the minimal synth and coldwave genres were undergoing a revival and rebirth thanks to labels such as Wierd Records (home to acts such as Xeno & Oaklander, Led Er Est, Martial Canterel, Automelodi, etc.) and Veronica Vasicka's Minimal Wave, among others.
After frequenting the infamous weekly Wierd Records parties in NY and becoming entwined in the culture, Void Vision took the stage and quickly became known for striking live performances. They released their first single 'In Twenty Years' on Blind Prophet (Sean Ragon's Cult of Youth record label), receiving the attention of labels like Rough Trade, who included a track on one of their well-curated synth wave compilations.
After the release of a split vinyl and various tracks for tapes and compilations, Void Vision's debut album, 'Sub Rosa' was released on Mannequin Records (Berlin) to much acclaim, and sold out of multiple pressings.
Void Vision's cold, analog tracks are dominated by Vari's haunting, powerful voice. But unlike many others associated with the genre, the songs are quite dynamic in range and structure, referencing a cross-section of the last 30 years of electronic music, while retaining a strong sense of personality and soul that speaks for itself. The past few years have been spent touring and sharing the stage with the likes of ADULT., Gary Numan, Boy Harsher, Clock DVA, Drab Majesty, Crash Course In Science, Eleven Pond and many others. The track 'Sour' was also recently featured on the Emmy-award-winning Netflix documentary 'Wild Wild Country'.
Tourdates
No shows booked at the moment.