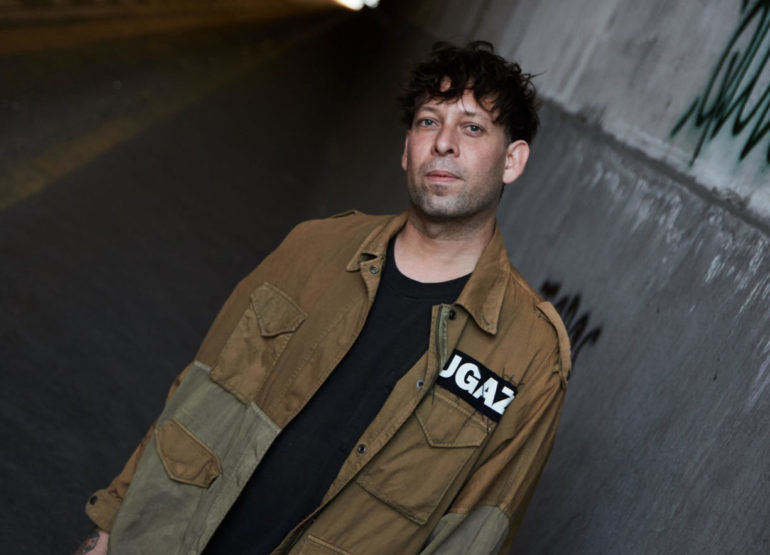 THE SOFT MOON
Booking Agent : Ricky Biondetti & Giorgio Salmoiraghi
"The whole point of this record was to share every emotion that I feel," says The Soft Moon's Luis Vasquez. "No two songs are the same. It's about existing in the world as a human being and experiencing many emotions and experiences throughout life."
And so hence the title Exister, a record rooted in the ecstatic joys and crippling lows that life can throw up and how just hanging on and existing is sometimes all we have. "Exister is my way of saying 'I'm here, deal with it.'" Vasquez says. The reason the album exists as such a personal one for Vasquez is because his life underwent a lot of changes throughout its creation. He left Berlin, his home of many years, and moved to the Joshua Tree to find some space musically, and personally, during lockdown. "I had a ton more freedom than I've ever had," he says. For one, he could actually play drums, which he's never been able to do before due to space constraints. Even his first album, which was typified by his whispering vocal style, was because of his neighbour situation. In the Joshua Tree, he could unleash himself and let rip and the clearest, and most symbolic result of that, is the prominent, powerful vocals of Vasquez that truly capture someone gaining confidence in their own voice. "I always complained that I never had enough freedom to do everything I wanted," he says. "This time I literally had everything at my disposal."
Sonically, this expression is a vast, expansive and potent one. The opening 'Sad Song', which unfurls with a dense brooding atmosphere, Vasquez describes as almost a ballad, while tracks such as 'The Pit' capture the opposite end of the musical spectrum, exploding as a thundering piece of industrial techno complete with gut-churning levels of bass. 'Monster' – a song that follows a human metamorphosis into an unrecognizable and destructive being – seamlessly combines a deeply melodic, almost electro pop, vocal hook with a slow build atmospherics to create something equally beautiful and unsettling. 'Become the Lies' explores the devastating consequences of being lied to by your own family and is a post-punk stomper, merging charging basslines, pummelling drums and snaking guitars, all of which combine explosively. Elsewhere the album runs the gauntlet of everything from ambient to dark wave – features ferocious guest contributions from Fish Narc and Special Interest's Alli Logot on 'Him' and 'Unforgiven' – all while retaining that distinct tone that unmistakably The Soft Moon.
It felt like something of a musical reset for Vasquez, who had come out of making his last album, Criminal, with some frustrations about the process and end result. "This is the first record where I felt completely detached from my career because of COVID and not touring," he says. "It felt like all those years before were just a dream. I was trying to write music as if I was starting completely over." This is also reflected in a new lyrical approach that embraced stream of consciousness delivery, allowing Vasquez to tap into the more pure and raw parts of his inner self. Another part of this starting again was hoping to make amends with some difficult family situations that had existed from childhood, but the opposite ended up happening and it changed the direction and shape of the record, as he went through a "roller coaster of conflicts" with his mother, which was further exacerbated when his uncle came out of prison after 40 years. "I thought I was done with the album when I found out about family secrets that were so disturbing, I reached breaking point," he says. "I was overwhelmed and angry. All that pain had to go somewhere and it went into the songs."
A photo of Vasquez as a child is the album cover and it's representative of a record that involved reconnecting with his younger self, with a mother-son relationship at the centre of the album. "It's my child self that you hear all over it," he says. "I was reminiscing and hurting a lot during the writing process. This is possibly my most vulnerable record yet." However, despite the pain, anger, vulnerability, and hurt that can be found at the core of this record, there's also a profound sense of hope and beauty. This transition from a place of discomfort to one of relief is key for Vasquez when making a record and going through a process of healing. It's been a cathartic process for an artist who can find the creative process quite torturous and fear-inducing. "My main goal is always to express something on the very deepest level possible," he says. "But to channel that I have to go deep into myself to bring that out. It can be dark."
However, a key point of reaching deep within himself during the creative process is so the end musical result can act as a bridge. "It's for other people too," he says. "I want them to feel things – to not feel alone and to connect. It just makes me feel lighter and a little happier with my life getting shit off my chest". On the closing 'Exister', the album seems to reach a place of peace and solace, ending on a quiet, reflective and poignant moment that captures a sense of optimism after a period of upheaval. "I love that feeling of going through turmoil and then knowing that there's that light at the end of the tunnel," says Vasquez. "It's kind of heroic. It's like climbing to the top of a mountain."
official
instagram
bandcamp
facebook

Tourdates
No shows booked at the moment.