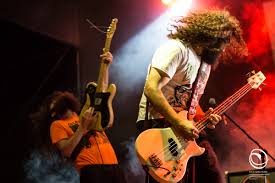 The Cosmic Dead
Booking Agent : Federico Zanatta
Since 2010, The Cosmic Dead have been exploring the outer reaches of Krautrock, doom and psychedelia, tasting the extremes of sound and fusing them into a single, all-enveloping web of stratospheric riffing, otherworldly ambience and kosmische textures that has spread itself across countless shows throughout all Europe.
"For anyone who hasn't yet stood before the Dead and their live homage to the cosmos, expect religious devotion to synthesised dreamworlds, subsonic grooves, guitaristic splendour and the vast, hypnotic sounds of Hawkwind and Popol Vuh eternally jamming in the Möbius strip of time and space".
Tourdates
No shows booked at the moment.