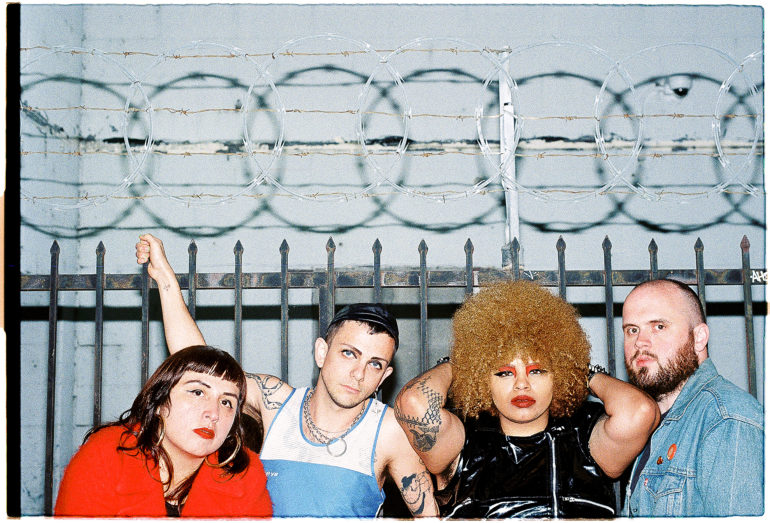 SPECIAL INTEREST
Booking Agent : Ricky Biondetti
Special Interest is a four piece punk band emerging from New Orleans, Louisiana. Combining elements of No-Wave, Glam, and Industrial Special Interest create a frenetic and urgent revisioning of punk and electronic music for a modern world gone mad. Propulsive drum machines, a swirling layer of detuned samples, and a driving bass line create the foundation across which angular guitar work and dissonant synth lines glide. Front and center are Alli Logout's commanding vocals and razor sharp lyrics moving from high camp satire to insightful political imperatives often within the course of one song.
Special Interest initially formed in 2015 to play one show in a basement. Originally a two-piece with Alli Logout and Maria Elena playing guitars and power tools over the beat of a 70's Univox drum machine. Soon after they ditched the power tools and were joined by Ruth Mascelli on electronics and Nathan Cassiani on bass. Special Interest quickly gained a reputation for their intense and energetic live shows. A dense wall of sound oscillating from aggressive and noisy to joyous and danceable punctuated by the no holds barred on stage persona of their vocalist. Special Interest have embarked on several short tours of the southeast and have traveled to play festivals such as Suoni Per Popolo, Slut Island, and Not Dead Yet.
Their debut album Spiraling w as recorded in New Orleans in 2017 by organist, inventor, and fixture of the local underground music scene Quintron. The first new release on Brice Nice's Raw Sugar label since 2011, Spiraling is perhaps the sum of its members influences. Which is, to say, everything. They are currently working on a follow up LP to be released in the US on Thrilling Living and in the UK/Europe on Night School Records.
Tourdates
03/11/22
Bristol
RoughTrade
United Kingdom
Buy Tickets
05/11/22
Manchester
White Hotel
United Kingdom
Buy Tickets
06/11/22
Glasgow
Stereo
United Kingdom
Buy Tickets
08/11/22
Leeds
Headrow House
United Kingdom
Buy Tickets
09/11/22
Brighton
Komedia
United Kingdom
Buy Tickets
10/11/22
Rotterdam
Vessel11
Netherlands
Buy Tickets
11/11/22
Frankfurt Am Main
Ono2
Germany
Buy Tickets
12/11/22
Haarlem
Slachthuis
Netherlands
13/11/22
Kortijk
Sonic City
Belgium
Buy Tickets