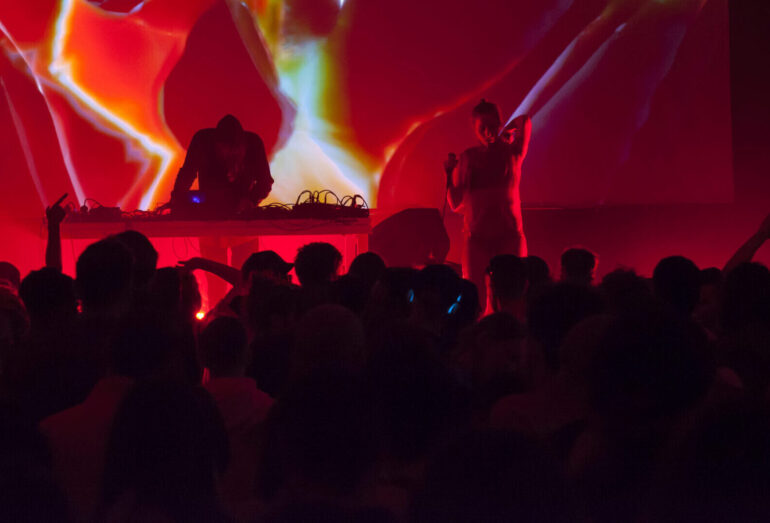 Soft As Snow
Booking Agent : Giorgio Salmoiraghi & Luca Ciscognetti
Soft as Snow is a Norwegian duo based in Berlin. Their music exists in a hybrid of deconstructed pop and club culture, forming "electronic music pushed to the brink of collapse" (The Wire). Their deeply immersive live shows combine glitchy sensuality, shapeshifting electronic experimentation and multifaceted vocals. Together with Guynoid's posthuman, warped visuals, they create a world of uneasy metamorphosis.
They have toured extensively performing in clubs, festivals and art galleries internationally including L.E.V. Festival, Roskilde Festival, Lunchmeat Festival, Athens Digital Arts Festival, Insomnia Festival, Berghain, ://about blank, Corsica Studios, Disconnect and Roter Salon, Volksbühne.
Their catalogue include, in addition to numerous EPs and tapes, critically acclaimed albums 'Deep Wave' on Houndstooth from 2018 and 'Bit Rot' on Mexico City label Infinite Machine from 2022. Their 3rd album will be released in 2024.
"Electronic experimentation of the highest order. Strange, mesmerising and utterly unforgettable." DJ Mag
"A bold offering that twists brutal electronics into often unsettling yet entrancing shapes." Clash
"Surrounded by enough glitch and crunch to bring down buildings." MIXMAG
"A complex and ambitious album, shape-shifting and layered, overlapping and multidimensional." i-D
official
instagram
bandcamp
facebook

Tourdates
No shows booked at the moment.