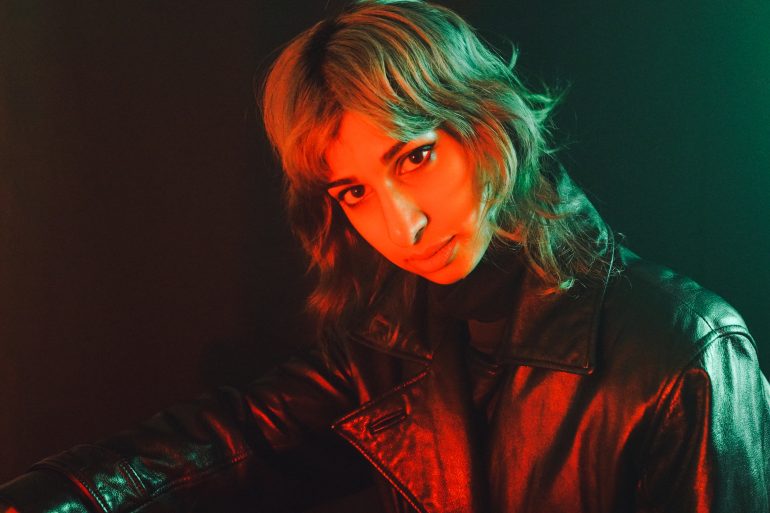 Nordra
Booking Agent : Giorgio Salmoiraghi
Brian Cook (SUMAC, Russian Circles) says: "Monika Khot, also member of the primitive-futurist neo-psych outfit Zen Mother, creates apocalyptic dirges combining modern classical explorations of electronic ambience with hardware-fueled industrial barrages under the name Nordra. The project has taken her across North America and Europe, performing in both the high-brow art world and in the underground rock trenches on tours with artists like SUMAC and Algiers. Nordra's third full-length continues her penchant for chilling digital drones, thunderous clatter, polyphonic idiosyncrasies, and a search for a harmonious balance between wrangling sounds out of new technology while exerting an undeniable human presence over the machinery. This final factor was of particular importance to choreographer / multi-media artist Colemxn Pester, who enlisted Khot to score their modernist dance performance trilogy PYLON, which explores the themes of resilience in the age of technology, surveillance, and other man-made impositions on the human body. Nordra's second outing, the commissioned score for PYLON II, was a hard-edged martial exercise—fitting for the dystopian nature of the series' second installment. But for PYLON III, Pester was looking for the light at the end of the tunnel and requested that Khot instill her work with hope and calm in order to serve the utopian aims of the performance.
Despite this direction, Nordra's latest offering retains a certain tension and power present in her early work. "All of the writing techniques I intended to use remained in place, but I think the emotional resonance of this piece of music changed over the course time," Khot reflects. "I don't think this piece embodies utopia or the shedding of a corrupted society at all even though that's what I set out to do… there's a dystopian destructive sound that I can't shake just yet." That unwavering sense of foreboding is evident from the first note of the record, a massive square-wave pulse that ushers in "Prologue." But the musical embodiment of hope follows close behind with sublime electronic drones that continuously push and pull the composition between major and minor keys. Digital hisses, the clatter of machinery, and the doomsday clock-tick of the hi-hat nudge the tone back into dire settings while swells of pocket trumpet and ethereal choral vocals struggle to provide solace. The duality of hope and despair was perhaps inevitable given the climate around PYLON III's creation, with Khot dealing with a close friend's cancer diagnosis and Pester's performance preparations interrupted by technical setbacks and injured dancers.
It's impossible to convey resilience without also capturing hardship, and the album's second track "Remembering" excels at communicating a sense of calm while some vestige of danger percolates beneath the surface. Khot's dreamy wordless-vocals sit at the forefront of the piece while stuttering percussion and groaning drones bubble up from below like buried memories. On "Monologue On The Beach," Khot uses sporadic guitar harmonics, fractured piano melodies, and soothing digital hums in a manner that feels spontaneous, fluid, and human, effectively creating an underlying sense of peace amidst disorder. This dichotomy between chaos and calm was one of the shared themes between Pester and Khot's work, and it manifested in a variety of ways on PYLON III. One of the most obvious examples occurs on "Searching In Fields For Elements," where Khot filters digital noise through a MIDI note interpreter and inserts the resulting melody as a sequence of synthesized bell notes. "I wanted to create an actor that represented this industrialization so you could see if you found it endearing or not," Khot explains. Our response to these random elements opens up a dialogue about the will of the element. "Some days I'm an anarcho-primitivist and some days I'm curious about what the exploration of machine-learning has actually taught us about our own consciousness," she continues. The notion that technology could accelerate our journey towards enlightenment is perhaps the most utopian vision one could have in our current age.
Ultimately, the music of PYLON III provides one context as backdrop to Pester's multi-media performance, but it has its own life and own character when absorbed on its own. In terms of emotional timbre, it's a departure for Khot, even if the instrumentation and hardware tonalities are consistent with her self-titled debut LP and PYLON II. "I don't think I would write the music on this record with no context," Khot says. "It is completely fueled, adapted, and created with thematic, visual, and choreographic content in mind." And yet even without those components, the experience of listening to PYLON III is haunting, compelling, and ultimately redemptive."
Nordra's PYLON II, released on SIGE Records, is a score created for a modern dance concerning oppressive architecture, mass data systems, and the individual. It was placed #20 of 50 Best Albums of the Year by The Wire Magazine, and #1 of 10 Best Noise and Industrial Albums of 2018 in the December issue. In 2021 Nordra performed on Donaufestival Krems and Skanu Mezs' Festival in Riga, other than being invited to a Pioneer Works residency program.
Tourdates
No shows booked at the moment.