News
26.03.2020
Confident or at least hopeful that things will eventually get better and that shows will finally resume, we're psyched to announce the new dates for the mighty GNOD UK tour:
11/11 Preston The Ferret
12/11 London Studio 9294
13/11 Margate Elsewhere
14/11 Brighton The Hope & Ruin
15/11 Bristol The Lanes
16/11 Cardiff The Moon Cardiff
17/11 Leicester The Soundhouse Leicester
18/11 Leeds Mabgate Bleach
19/11 Glasgow NICE N SLEAZY
20/11 Newcastle The Cluny
19.03.2020
New release! RAKTA & DEAF KIDS "Live at Sesc Pompeia" out May 21, 2021 out Rapid Eye Records
Two of the most exciting bands to emerge out of Brazil in recent times, are joining forces in this primal and playful live experience from 2019. Crossing over the borders of psychedelic rock, these two bands create something truly unique; a land of concrete techno and percussive punk, as they become one entity in the making. This is a very special collaboration that will transport you into a live concert frenzy, which, dare we say, has never been more needed than now.
Very limited edition of 400 copies, with another 100 copies provided by Nada Nada Discos in Brazil.
Cvlt Nation premiere HERE
Check also this sick set DEAFKIDS recorded live for Fact Magazine
04.03.2020
Part Chimp announce new album, Drool, to be released in June via Wrong Speed Records!
Watch the videoclip for the song "Back from the Dead" premiering the album and read a full interview with the band on THE QUIETUS: "The album is called Drool. It's a word that singer and guitarist Tim Cedar feels sums up his band conceptually, sonically and philosophically. "It is just slobbering, dribbling stupidity and salaciousness," he says"
27.02.2020
"Visual artist and director Daisy Dickinson lends acid-laced visuals to the track, responding to Araki's intense analogue sonics with hallucinatory organic imagery, layering footage of lysergic crystalline structures, oozing technicolour abstractions, flickering snapshots of nature and fleeting glimpses of a mysterious face".
Fact Magazine on YUKO ARAKI collaboration with Daisy Dickinson Films for the track "Moonstroke in the Mountain" out of "End of Trilogy", Araki's new album to be released on April 2nd via Room40.
Yuko Araki channels noisy psychedelia for 'Moonstroke in the Mountain'
26.02.2020
BIG | BRAVE ANNOUNCE NEW LP, 'VITAL' Incoming on CD + digital formats April 23rd, with vinyl release to follow on July 9th, from Southern Lord.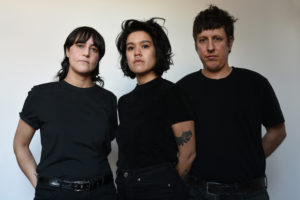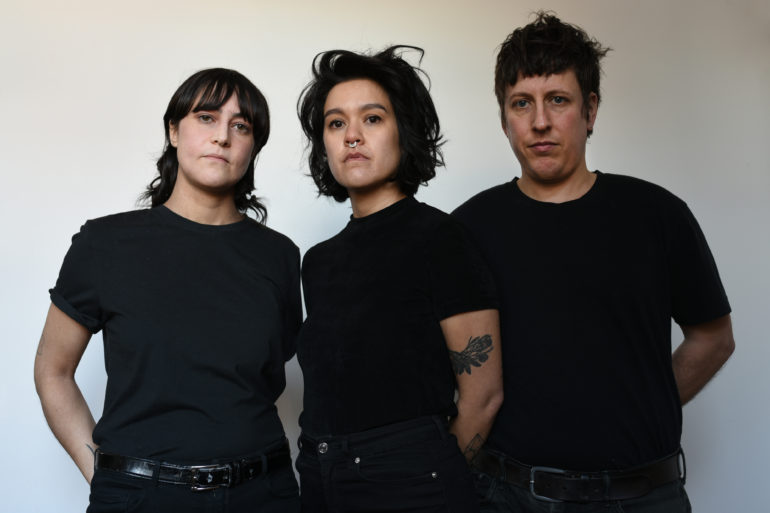 Minimalism and instinct, structure/freedom and meticulous timing form the cornerstones of BIG | BRAVE's precise, rhythmical sound. On their new album VITAL (available on CD/digital formats April 23rd and vinyl on July 9th via Southern Lord), the recording features the core trio Robin Wattie, Mathieu Ball and Tasy Hudson, for their most collaborative record they've made so far. The band comments, "having cut our teeth in very different musical backgrounds respectively, our intuitions vary, which has an interesting effect on our individual approaches and ears." Lyrically, VITAL explores the weight of race and gender, endurance and navigating other people's behaviors, observation and protest. The band further commented "this album involves what it means navigating the outside world in a racialized body and what it does to the psyche as a whole while exploring individual worth within this reality."
Our first glimpse of the album arrives today in the form of a video for the track "Half Breed", consisting of a single shot of a single performative action that can be read as the representation of the damage an external force can have on someone or something without ever having to bear any responsibility and consequence. BIG | BRAVE adds, "The action of shoveling dirt onto the person, also acts a way to discredit, shame and discriminate the individual. With the victim (on screen), being painfully covered with dirt by the perpetrator (off screen), all we have to witness is the damage done and left behind. We are aware of what is happening, what has happened, but the source is kept anonymous and can easily be missed and overlooked."
19.02.2020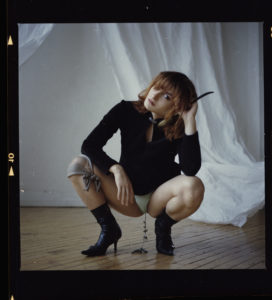 Psyched to announce another great addition to our roster: Beirut-born/Berlin based artist Zeynab Marwan aka THOOM
Thoom rejects the polish of 2010s pop culture and its slavish devotion to selfies, autotune and artificial perfection. Her sound is a volatile hybrid of tender guitar ballads and searing electronic noise, in turns heavenly, grungy and dissonant, never subscribing full stop to the pressure to maximize
Thoom is a storyteller and a noisemaker, a beacon for the unafraid, and the kind of crossover rock icon that the Middle East has never before produced.
Her latest album , Pork, was released in 2020 on Marwan own imprint Career Whore.
Thoom has been selected to be one of the artists of SHAPE platform for 2021.
For booking enquiries: federico@swampbooking.com
10.02.2020
CVLT Nation premieres the video for "Lost Race", first single off YUKO ARAKI's upcoming new album End Of Trilogy that comes out April 2nd via Room40 .
preorder: https://room40.bandcamp.com/album/end-of-trilogy
Araki, teaming up with London-based director-visual artist Daisy Dickinson Films will be (hopefully) promoting the album with a series of shows across Europe and UK in the late Fall
Experience the Melodic Psychedelic Noise YUKO ARAKI "Lost Race"
10.02.2020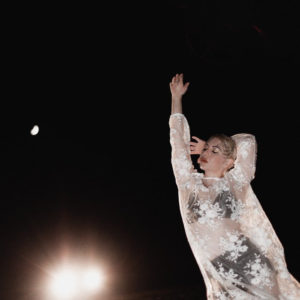 The official music video for KANGA's song "Moscow" is streaming now.
The video is "a short story celebrating love and the inevitable pain and loss that comes with it," in KANGA's own words.
Based in Los Angeles, KANGA's dark, danceable pop is marked by her commanding, ethereal vocals, and an undercurrent of industrial elements. Post-Punk.com describes her as "a unique fixture on the scene, fusing post-apocalyptic pop sensibilities with body-shaking rhythms and sinuous melodies. A little Kylie Minogue here, a little Skinny Puppy there, her dynamic mix of production, songwriting, vocal melodies, and synth create a lush, highly-danceable tapestry."
Stream the "Moscow" video, here:
https://post-punk.com/dark-electronic-music-artist-kanga-weaves-a-romantic-daydream-between-two-lovers-in-moscow/
"Moscow" appears on KANGA's forthcoming sophomore album, You and I Will Never Die, out March 26th on Artoffact Records. Written and performed entirely by KANGA, it was mixed by Justin McGrath (Nine Inch Nails) and Brett Romnes (Brand New), and mastered by Nick Townsend (Dr. Dre, Garbage).
Pre-order the album, here: https://kanga.bandcamp.com/
You and I Will Never Die follows KANGA's much acclaimed, self-titled, debut album, released in 2016. KANGA has toured the US, UK and Europe with Gary Numan, The Black Queen (Greg Puciato of Dillinger Escape Plan) and more. In addition to making her own music, KANGA is a producer and remixer whose credits include Dalmation (Kristina Esfandiari of King Woman), 3TEETH, clipping., Danny Blu and more. She also composes for film, notably assisting horror composer Joseph Bishara on scores for the Insidious and Conjuring films.
Photo by Michael Mendoza
20.07.2020
EVIL WARRIORS release today a new album.
Amongst wild structures embroiled in an endless fight of domination, amongst dissolving forms pretending to know right and wrong, trying to justify their own being. In between this fuss you can find a certain figure that doesn't care about all this, a figure that is and does not pretend to be. Complex in it's simplicity it satisfies itself. "Schattenbringer" does not bring truth but all it's different kinds. Constructs made of contrast.
Cover artwork by Alexander Kavtea. Layout by Harvest of Eyes.
"Schattenbringer" is now available as
▪️ 12″ EP: https://intoendlesschaos.de/…/pr…/schattenbringer-12inch-ep/
▪️ Digital Download: https://evilwarriors.bandcamp.com/album/schattenbringer
03.07.2020
SEX SWING and Rocket Recordings announce "Passovers' remix album with amazing IDLES track
'Passovers' is out and it features a remix of every track from the band's recent album 'Type II' – the release features contributions by METZ, Jane Weaver, Brian Case (Disappears), Johnny Broke (Wayne Adams from Petbrick), Anji Cheung, The Keep and IDLES.
Listen to IDLES remix of track 'The Passover' here:

This is what Sex Swing say about the IDLES remix:
"The remix is by Bowen from IDLES, who is one of the guitarists and main songwriters in the band. The guys are big fans of the band after seeing us play at the Exchange in Bristol last year. I think he's done an amazing job, stripping the beat down until it's almost synthetic sounding, then adding extra layers of noise. Reminds me a lot of Suicide in that respect."
And Mark Bowen from IDLES said:
"Sex Swing are one of my favourite bands. One of the things I like about them is that they combine harsh, caustic, anxiety inducing sounds with some sick head bopping grooves. You're screaming on horror but tapping your feet. The new album has really distilled this idea down. With the remix I wanted to separate those two parts out and bring them to the fore. Hence the droney horror-show intro with the krauty-groovy second half, always striving to maintain that sense of unease, like its all going to fall apart at any moment."
02.07.2020
NORDRA is releasing her new album "Pylon III" on July 31st through SIGE Records
Track and pre-order up now :

"Pylon III confronts the concept of utopia and the rebuilding of a world after its demise"
Mixed by Randall Dunn
Cover photo by Alex Boeschenstein
Design by Faith Coloccia
01.07.2020
Extremely happy to welcome J. Zunz to Swamp Booking roster!
Lorena Quintanilla, better known up until this point as one half of Mexican duo Lorelle Meets the Obsolete in her solo reinvention as J. Zunz will be releasing a second album, titled "Hibiscus" on August 21st via Rocket Recordings (LP/DL) and Commando Vanessa(tape).
'Hibiscus' is available to preorder on ltd edition 'Exotic Swirl' vinyl via the Rocket shop from 9am on Friday (3rd July) – to coincide with the Bandcamp 'No Fee' day.
The album is also available on beautiful ltd edition cassette via tape label Commando Vanessa.
Haunting videoclip for Y, first preview from the album :
01.07.2020
One of alternative music's most prolific songwriters, Emma Ruth Rundle has surfaced with a never-before-heard song, "Staying Power." The track was recorded as part of 2018's On Dark Horses studio session but didn't appear on the paramount recording. Now, the steadfast single has surfaced on streaming services (and will appear on Bandcamp with all sales proceeds will going directly to the artist this Friday, July 3)
Listen to "Staying Power":
Emma Ruth Rundle comments: "There is very little mystery as to what this song is about. The lyrics are not metaphorical. It's about being a touring musician and trying to survive, to conjure the self discipline to go on without sacrificing sensitivity. How we can become hardened as a result of constantly selling our feelings, how I didn't want that to happen to me but could feel the callousness building. It's also about the financial feast or famine and whether a little immediate monetary gain is worth the expenditure of youth. It's about wondering how long I might be allowed to do this and the fear that it could end at any moment— with Covid, the song has some renewed relevance in that regard. It talks about what it means to endure and what the rewards and consequences of such persistence might be."
As it's been for many artists, 2020 was cut short for Emma Ruth Rundle; she'd just finished a North American tour with Cult of Luna when the Covid-19 pandemic hit in the states, and was confirmed as a curator of the monumental Roadburn Festival that has since been rescheduled to 2021. With the newfound time at home, Rundle decided to release previously unheard "Staying Power" as its lyrics rang true once again. The tracks from this 2018 On Dark Horses recording session feature Emma Ruth Rundle's most cinematic approach to her sincere and candid songwriting — they are as disquieting as they are ethereal.
30.06.2020
Brazil's searingly good noise trio DEAF KIDS have teamed up with Wayne Adams and Iggor Cavalera's pummelling PETBRICK for an extraordinary new album 'Deafbrick'.
Along with a premiere of the track 'Força Bruta', they speak to Patrick Clarke about the links between New Weird Britain and Brazil on The Quietus
Deafbrick is released via Rocket Recordings in the UK and Neurot in the Americas on September 4.
29.06.2020
DEAF KIDS are coming back to Europe next spring supporting Oranssi Pazuzu on their " New Technocracy European Tour 2021″
04.29. Krakow, PL @ Kwadrat
04.30. Prague, CZ @ Futurum
05.01. Vienna, AT @ Arena
05.02. Leipzig, DE @ UT Connewitz
05.03. Berlin, DE @ Cassiopeia
05.04. Hamburg, DE @ Headcrash
05.05. Stockholm, SE @ Slaktkyrkan
05.06. Copenhagen, DK @ Vega
05.07. Sneek, NL @ Het Bolwerk
05.08. Utrecht, NL @ De Helling
05.09. Dortmund, DE @ Junkyard
05.11. Manchester, UK @ Club Academy
05.12. London, UK @ The Garage
05.13. Brussels, BE @ La Botanique
05.14. Paris, FR @ Maroquinerie
05.15. Rennes, FR @ Ubu
05.16. Toulouse, FR @ Le Rex
05.17. Lyon, FR @ CCO
05.18. Martigny, CH @ Les Caves du Manoir
05.19. Winterthur, CH @ Gaswerk
05.20. Milano, IT @ Legend Club
05.21. Délemont, CH @ SAS
05.22. Kalrsruhe, DE @ Jubez
05.23. Kassel, DE @ Goldgrube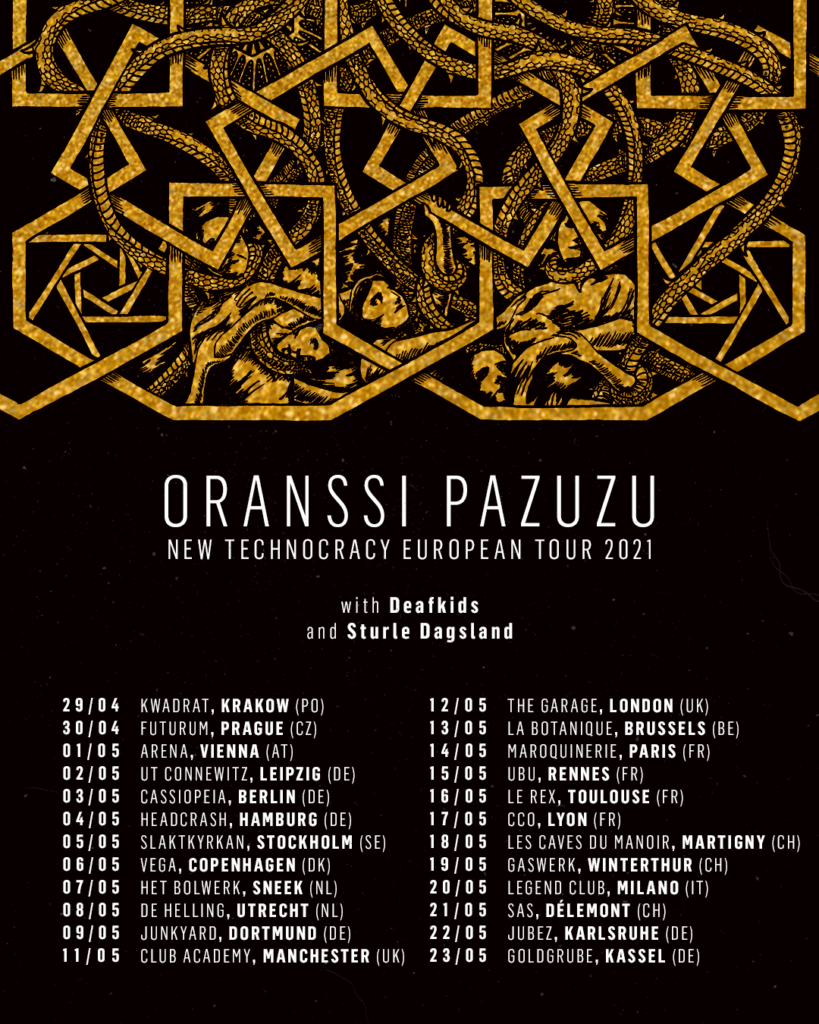 "Brazil will probably be on a list of countries that will be banned from the EU when the borders reopen, based on the number of Covid cases and how well governments are doing controlling the outbreak. The situation down here is pretty bad and getting worse, specially because of how bad this government is carrying this situation with a clearly genocidal agenda.
In other words it means that we need to expect for an actual miracle to change this terrible scenario of social decontrol and thousands and thousands of more deaths. We hope to see yall soon!"  DEAF KIDS