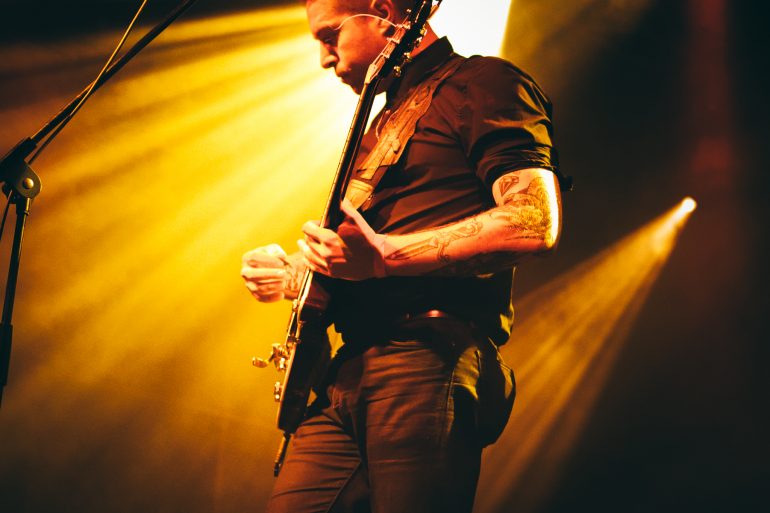 King Dude
Booking Agent : Ricky Biondetti
Booking Agent Latin America : Diego Bustamante
TJ Cowgill has been releasing Luciferian folk epics under the moniker King Dude for nearly a decade, and his sound has only grown more striking with each new release. With his seventh album, Music To Make War To (out today via Ván Records), Cowgill tackles the foibles of war with piercing poetry and ambitious instrumentation. In celebration of the album's release, Cowgill has unveiled a video for the LP's third track, a blues-inflected duet with Josephine Olivia (of dark wave duo Blacksage) entitled "Good & Bad."
Watch the bewitching video in full today. "Good & Bad" caps of a trilogy of videos released in commemoration of Music To Make War To, a ten-song chronicle of war in all its iterations—within families, between hearts, across borders and beyond. Videos for the galloping siren song "Velvet Rope" and grim hymn "Time To Go To War" round out the trio of epic releases.
"Music To Make War To is an effort to explore what living in a perpetual state of conflict means to humanity," Cowgill says of the album's intent. "It represents an attempt to find war in less conventional places and explain those findings through allegory and rock n' roll. Now more than ever, in times like these when it appears that some invisible yet inevitable war is on the horizon, -it is crucial to recall the past and the total reality of war."
Cowgill began churning out electrifying neo-folk as King Dude in 2010, with the barren and eerie acoustic tracks of My Beloved Ghost. Cowgill's sound has seen a staggering evolution, strapping his plaintive songs with bombastic '80s sheen (Fear, 2014; Sex, 2016) while still dabbling in heart stringing Luciferian balladry (Songs of Flesh & Blood — In The Key of Light, 2015). Music To Make War To finds the King Dude persona at its most poised and fully realized.
Tourdates
No shows booked at the moment.
Tags: european tour, king dude, van records