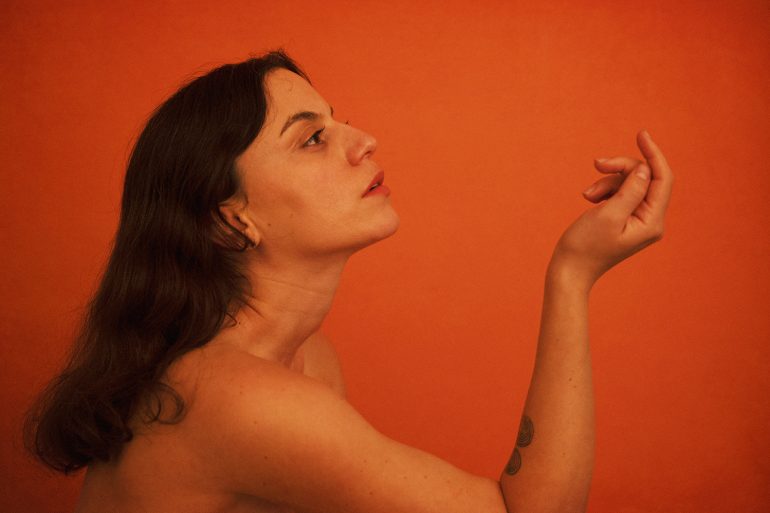 DERADOORIAN
Booking Agent : Giorgio Salmoiraghi
You're familiar with Angel Deradoorian's voice. As the former bassist, keyboardist and vocalist for Dirty Projectors, her levitating vocals buoyed the Brooklyn-based group. She's been a member of Avey Tare's Slasher Flicks, sang on Flying Lotus' "Siren Song," and has collaborated with Vampire Weekend, Björk, Matmos, the Roots, et al. She performed with Stephen O'Malley of Sunn O))) at the 2018 edition of Moogfest.
Her first song collection, 2009's Mind Raft EP elicited praise from Pitchfork for being "passionate and lovingly crafted." The Fader hailed her "zen weed energy" and "moody dervish spirals." Her debut LP, The Expanding Flower Planet reflects a remarkable creative journey.
Others imitate the past and others divine inspiration and transmit it elsewhere. Deradoorian embodies the latter idea, synthesizing faint hints of Alice Coltrane and Can, Terry Riley, and Dorothy Ashby. A new world springs from ancient traditions—with East Indian, Middle Eastern, traditional Japanese music and Native American rhythms aligned with Deradoorian's singular orbit. The songs glide through a odyssey of self-exploration—glowing and warping, burning brightly and floating gracefully, permanently transcending.
Deradoorian released her new album "Find The Sun" on Anti- Records (also home of legends like Tom Waits and Merle Haggard) in September 2020.

facebook
instagram
anti- records
youtube
soundcloud
spotify

Tourdates
19/05/21
Milano
BIKO
Italy
20/05/21
Bern
Dampfzentrale
Switzerland
21/05/21
Paris
Badaboum
France
22/05/21
Bordeaux
I-Boat
France
23/05/21
Zaragoza
Bombo Y Platillo
Spain
24/05/21
Castellon
Teatre Del Raval
Spain
25/05/21
Barcelona
Fabra i Coats
Spain
26/05/21
Montpellier
The Black Sheep
France
27/05/21
Torino
Blah Blah
Italy
28/05/21
Modena
Ekidna
Italy
29/05/21
Graz
Orpheum Extra
Austria
31/05/21
Budapest
Aurora
Hungary
01/06/21
Bratislava
A4
Slovakia
02/06/21
Brno
Kabinet Múz
Czech Republic
03/06/21
Prague
Underdogs
Czech Republic
04/06/21
Jena
TRAFO
Germany
05/06/21
Köln
L'Acephale
Germany
06/06/21
Rotterdam
WORM
Netherlands
07/06/21
Nijmegen
Merleyn
Netherlands
08/06/21
Brussels
Botanique
Belgium
10/06/21
Konstanz
K9 Kulturzentrum
Germany
11/06/21
Mannheim
Maifeld Derby Festival
Germany

w/ Caribou, DIIV

12/06/21
Zwiesel
Jugendcafé Zwiesel
Germany
13/06/21
Linz
Stadtwerkstatt
Austria
15/06/21
Lubljana
Gromka
Slovenia
16/06/21
Lugano
Lido San Domenico La Buvette
Switzerland
17/06/21
Luzern
B-Sides Festival
Switzerland
19/06/21
Innsbruck
PMK
Austria